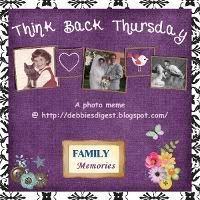 Railroad / Train / Train Tracks
March 1999
On the train at the Franklin Institute with friends
Christmas 2001
The boys got wooden trains for Christmas. Similar to but cheaper than the Thomas the Tank Engine trains, the Thomas trains fit on this track and we bought them some Thomas trains to go with the cheaper track.
All the kids had fun playing with them the next few days.
I also had some pictures of my boys playing with their trains with a friend in their bedroom, and of us setting up the trains to simulate the joining of the Pacific and Union Railroad as a school project; but I could NOT find them.
Philadelphia Zoo train
Nathan looks thrilled, right!! LOL
08-25-10
I took this photo for a photo project I was doing called the 365 project. You were to take a photo a day. In this case, however, we had a photo challenge. This photo was for something that disappeared into the distance. I did not ultimately choose this photo, I choose a row of candles because the colors were so great. But, I like this photo also.
01-07-12
Longwood Gardens
Last look at the Christmas things before it all got taken down and found this railroad for the first time. It was fun finding new stuff we had missed at Longwood each time we went. There was soooo much to see you could never see it all in one visit.
They had Thomas trains for the kids! My boys used to love Thomas.
There are
more pictures and video of the trains at Longwood
at this previous post of mine, if you are interested.
Future Themes:
10/25 Autumn
11/1 Baby
11/8 Out of Focus
I have lots of these
NOTE: one of my readers and regular participants,
Kym Thorpe
,
asked how she would choose from among all her out of focus pictures, I too will have trouble. But don't despair, I am SURE I will do this theme again, just because I have sooooo many photos to choose from. So, make a folder with the name Out of Focus Pictures and start saving them for the future. Pick out the ones you want to use this time and save some for later. Oh, and I am sure we will add to this as we take more out of focus photos in the days to come! LOL
11/15 Entry/Doorway/Enter
11/22 Thanksgiving
previous years or preparations for this year

11/29 You/Yourself/Self-Portrait
a photo of you, taken by you or by someone else
a recent photo or one from days gone by
Here are the Rules for participating
:
The purpose of

Think Back Thursday

is to link up a photo post about something from the past. You can reach back all the way to your childhood and bravely post pictures of you in your wild clothes and hair styles or post something from last year and tell us about it. I'm not picky. Hey, even

yesterday

was the past... LOL My posts will mostly be about events that happened prior to blogging, as a way to share those things with the world.
It can be about you, about your kids, about your parents, whomever. You can include video, I will not exclude video alone posts, but I prefer them along with photos, as this is a photo meme. I am doing a weekly theme now. That should help narrow it down from the myriad of photos we all have. For ideas check out the other posts in my label Think Back Thursday.

Link up below.

Please use a permalink that sends readers directly to the correct post. If you are not sure what that is click the word permalink for an explanation.
Mention my blog and offer a link back. This is a requirement to take part and a kind gesture to me your hostess as well as your readers--they will know where to join in the fun, too.

You can put the Think Back Thursday button on your site and in your post. You will find it on my right sidebar. Please use it to link to my site, to spread the word about my meme. Using the button will help others know how to find me and how to join. Tell others to click on the button in your post to find us here.

Leave me a comment. First so that you can let me know what you think of my pictures and secondly so that I will know a new post has been linked up and I can come visit your blog and comment on your photos.
Join me!
all content on my blog is ©