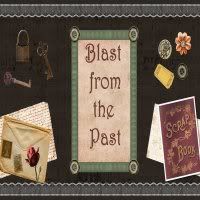 Since I am going to visit my mother this weekend...
and since it is graduation time...
I thought this was a great photo to share with you.
My mom was born in 1922 so this should have been around 1940.
She married my dad shortly after this and then he was off for the war.
She will be 89 this year.
Join Me!
Here are the Rules for participating
:
The purpose of

Blast From The Past

is to link up a post about something from the past. You can reach back all the way to your childhood and bravely post pictures of you in your wild clothes and hair styles or post something from last year and tell us about it. I'm not picky. Hey, even

yesterday

was the past... LOL My posts will mostly be about events that happened prior to blogging, as a way to share those things with the world.