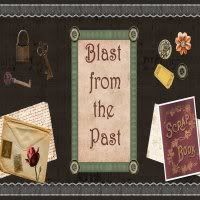 This weeks Blast features my son Christopher eating a normal summer treat for a kid.
Christopher Today
Christopher is about 1 1/2 yrs. old.
I believe this was his first Popsicle.
I think he is greatly enjoying it, don't you.
So Cute, if I do say so myself.
I hope you enjoyed this weeks Blast
Now it is your turn!!
Post a picture from your past... yesterday... days gone by...
Pictures of you, your family, your kids, your spouse...

Make sure you take my Blast From The Past button to put in your post. Tell your readers to click on the button to come to my blog or leave them a link at the bottom so they can read my post and participate if they want to.

Don't forget to come back and sign Mr. Linky so we can all go read your post!!!
Debbie