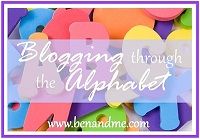 From my title you probably expected to see pictures of a baby boy.
What you have instead is a picture of a cross stitch baby boy that I am stitching on a bib.
This gift is for my great nephew's coming son... he will be my first great-great nephew.
Can't believe my sister will have a great grandson, she is way to young. The parents are young.
My sister is going to be a great grandmother and I don't even have a married child yet.
Oh, well, not something I can control, all in God's time.
I am working on this a lot, I have to get this done so I can mail it to them.
I still have to do a bunny the little boy is holding, then take off the waste canvas and then do the back stitching.

click the link at the top to see other posts and link up if you want
all content on my blog is ©