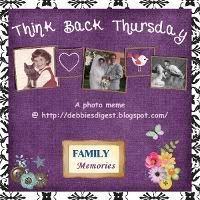 Today's Theme
Outdoors
(any activity that takes place outside)
That leaves it wide open... lot of friends should be able to join in on this one.
I decided to feature photos from one month.
June 1995
I hope you enjoy my trip down memory lane with outside photos of my kids and some friends and family.
Nathan would have been almost a year old in these photos.
Jessica would have been 6 years old in these photos.
Rachel would have been 9 years old in these photos.
First we have my dd's and a friend. These were taken in their friend's backyard.
Jessica is on the left. Their friend is in the middle and he was between the girls in age as well. Rachel is on the right.
The kids had so much fun painting outside in the yard on that warm summer day.
These photos are with the same friend. We were going to a play at a theater in the city. This is outside the theater on the steps. I am not sure if they were taken before or after the play.
Field trip to White Clay Creek State Park.
They were having a kids program... I wish I had kept better records of what the theme of the day was.
Many of our friends were at the program at the creek that day.
This was a Free Day at the Brandywine River Museum in Pennsylvania.
We only managed to get to a couple of these... but the kids enjoyed all the activities.
Jugglers
I think this was a guy with animals... but I'm not sure. Rachel was a volunteer... for what I am not sure.
I don't know if there were direction on what to draw here, but the girls seem to have enjoyed it.
The girls wanted a swing and we didn't have money for one...
So... like all good kids who are resourceful (and homeschoolers) they made one themselves.
From a couple jumpropes and a plastic tub lid.
It is great to see them making do and having soooo much fun.
I loved this screened in back porch.
We miss it terribly.
My mother moved in with my sister and sold the home I grew up in.
Someday I hope to have a home with a screened in porch.
We used it all the time.
Painting storm drains.
This was my friend's idea and was done in her neighborhood. I had never seen this done and have never seen it done again. The kids had a lot of fun though! Don't mind the old odd color combos of the girls clothes. Old clothes are needed when spray painting.
Love this expression!!
I don't have any idea why we measured the grates... but it was part of the process evidently.
COOL
Well, now it is your turn.
By the way. Do you like the new introduction at the top and the Rules for Participating photos. I did it with Picmonkey.com. My daughter showed me how. It makes things simpler, more pretty, and a friend mentioned that Google Analytics doesn't like seeing the same words over and over and over on a blog. I am not really trying to get better "grades" from Google but I thought it was a good idea. I hope you can read them and I hope you enjoy them.
all content on my blog is ©