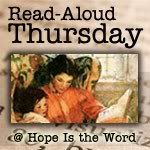 I am joining the Read-Aloud Thursday meme again. If you want to join us click the link above, write your post and link up.
The Story of Haydn (Signature Books, 49)
This was a very good book. I did not know much about Haydn before reading this book. I especially enjoyed the portions of the book that told about the following musical compositions. First was how he wrote the Surprise Symphony to wake up the sleepy audiences of London. They were used to large meals and then took naps during the evening musical performances, Haydn wanted to wake them up... and boy were they surprised. Another part I liked was how he wrote the Farewell Symphony to get the prince to let the musicians go home to their families. The prince had stayed too long in the country and the musicians missed their families. It was an ingenious move on Haydn's part. Lastly was how he was influenced by Handel to create an oratorio. He choose to base it on Milton's Paradise Lost and Genesis and called it The Creation. Beautiful music with wonderful lyrics Signature books are almost as good as Landmark books. This one is for sure. If you haven't read this book you should. This was a read-aloud for school. It is good individual reading for about ages 9 or so and up, unless you have an advanced reader, then maybe even younger. This book has 179 pages and it took us about a week to read it @ 30-45 min. a day.
Check out some other Signature books also. They have a lot of great titles.
If anyone knows of a website with the complete list of Signature books (by Grosset & Dunlap) let me know. There had to be at least 49 books since this copy is labelled as #49.
all content on my blog is ©
Note:
book links are affiliate links to Amazon.com