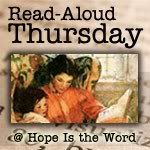 I am submitting this for Read-Aloud Thursday as you see. I have not done this meme for a while. I am excited to start this up again with this great book.
By Wagon and Flatboat
by
Enid La Monte Meadowcroft
My rating:
4 of 5 stars
By Wagon and Flatboat is an interesting book. We read it for school. We greatly enjoyed the story of 2 families moving from Gray's Ferry, now part of Philadelphia, PA to Ohio. First they travel by Conestoga Wagon to Pittsburgh, PA then change over to a Flatboat to travel down the Ohio river to Losantiville. Have you ever heard of the town named Losantiville, OH? Me neither. That is because they changed the name. On the last page of the book. What did they change it to... you'll have to look it up or read the book to find out.
There are so many adventures the family has during their travels. I don't want to spoil the book but there is a tooth pulling, rain and mud, mountains and water, children, a dog and farm animals... and Indians. Suspense and trouble and taking apart a boat to make a door and the floor of their new house. I found it to be a great story and I love that a couple times in the story the family refers to God, they go to church, and they pray. This is a good, clean, interesting historical fiction covering the early pioneer days after the Revolutionary War. Lots of people started moving west.
I like the author and the way she writes. We have a few of her books and I will be on the lookout for others. I hope that you will consider reading this book, especially if you include it as part of your homeschooling as I did.
View all my reviews
all content on my blog is ©