I am not sure how many of my readers has heard of this magazine or seen a copy. There are come great articles in here. And the price is right... FREE! So since they just sent me a new magazine and told me to pass it on to my friends, I thought I would post about it here on my blog.
Enjoy,
Debbie
___________________________________________________________________________________
___________________________________________________________________________________

The Mother's Heart Magazine Issue #50 just released!

Download your subscription issue by clicking
here
.
Subscriptions are available online
here
.
---
A Special Note to Our Subscribers:
Due to some great people who support our vision and ministry, and due to a great God, we are now able to offer The Mother's Heart magazine totally free.

Over the years, our prayer has been, "Lord, how do we get this message into the hands of those who need it?" And this seems to be the answer to that.
The media does a number on motherhood. I remember Dr. James Dobson saying that if the media did to dentists, what it does to mothers, no one would go to the dentist anymore, and no one would become a dentist anymore.
And we, at The Mother's Heart magazine, are here to offer a different view. A perspective based on the Bible. A lifestyle not based on the media's interpretation of motherhood, marriage, relationships, the role of a woman. But based on the joy of following God's ways. Of serving our families. Of joyfully laying down our lives to give to them. Of focusing on our homes.

So, to help us celebrate this new turn in our paths, please send this information to anyone you know who needs encouragement. Who needs affirmation that the way they are going is good. Who need help learning how to be a mother, how to discipline their time, create a schedule to get things done, keep the house clean, get the schooling done, and have a joyful attitude all the while.
Let's join together in making a difference: in our own families, in our communities, and around the world.
And join us in praying for this ministry, for our family, and for the lives we will touch.
PS - you are now automatically enrolled in our new distribution list for free subscriptions, so you do not have to go through the process of signing up. Please let all your friends know that this great magazine is now free just for asking.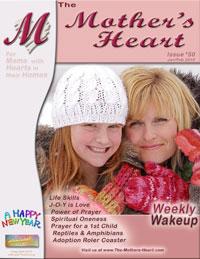 The Mother's Heart Magazine
is dedicated to serving and encouraging mothers in the many facets of staying at home and raising a family. It deals with practical and heart issues of moms - and dads. There are columns on child raising, husband and wife relationships, herbal healthcare, and adoption. Regular features include crafts, educational helps, trusting God for family planning, infertility and scheduling. Plus Kym shares many of her household forms created to make life easier: children's measurement forms, library form, chore charts, homeschooling and more.

---
Mark & Kym, the editors of
The Mother's Heart Magazine
, have 8 children (7 biological, and 1 adopted). They have a love for mothers that desire to stay home to raise their children, and for the husbands and daddies of these families. It thrills their hearts to see parents turning their hearts to the home.
Their Mission is to 1) honor and obey God, 2) encourage mothers that it is okay, and godly to stay home and raise these little and big ones of His, and 3) assist the daddies in their roles as bread-winner and family leader.
View
our new team of outstanding columnists

here

!
S
ee our inventory of beautiful, reformatted back issues

here

!
L
earn how to use an eBook

here

!
Remember - The Mother's Heart is now absolutely free!